Some time ago,
julchek requested a closer look at the boots I was wearing to the London CoRo date; and just now
desdemonaspace expressed an interest, too, so...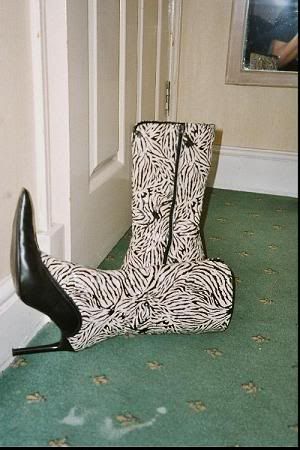 These are my Roberto Botticelli boots. I've had them for about two years, and I really like them. They're comfortable and have good balance, and are made of calfskin so they're quite soft. I'd seen them before but couldn't afford them; then one day, they were in the sales. I still couldn't afford them, but the sales assistant understood about women and shoes, and held them for me. I paid for them in 3 easy installments, and I wear them quite often...or as often as my other shoes allow! They get quite jealous of one another, you know -- well, you do, if you know about shoes!

And now for something completely different:

Hurray! Hurray! My copies of The Clear Channel EP and The Hotel Café vol. 3 came through the post today! And they're brilliant. I'm just listening to the CC-EP version of 'Oklahoma' and it's sheer beauty...
desdemonaspace, you said you'd never heard of Common Rotation before I started mentioning them, but have you ever heard any of their music? If not, visit their website and listen to one of their Union Maids (i.e. songs they're working on), or click to
theunionmaid and play the Union Maid radio from the archive section. Honestly, it's well worth spending a minute or two there -- and that goes for everyone who hasn't checked them out yet.

Right -- shameless plug over, I'll go for pizza.