The first thing I noticed, was that it had all been done on an old- fashioned typewriter, and the ribbon had needed changing. The fact that it hadn't been told me that I had probably been too skint that summer.
The second thing I noticed was that I seemed to know exactly what I was talking about. On almost every page there are ideas that are uniquely and completely mine, which isn't surprising since at that time, hardly any study had been made into Van 't Hoff, although the two villas that he built shortly before the First World War were included in every introductory course on 20th century Dutch architecture. So I didn't have that much to go on in terms of previous literature, apart from photos, blueprints and the occasional letter I found in the archives of the Dutch Architectural Institute.
Already on the 6th page of my paper, where I'm recounting the story of how in 1914 Van 't Hoff met with Frank Lloyd Wright while preparing the drafts for a private commission for a house-cum-museum in Long Island, and instantly decided Wright should come in on it with him, but nothing came of the plan (or the house for that matter) -- I reach the conclusion that it probably wasn't the outbreak of the First World War that prompted Van't Hoff to go back, and the deal to fall through (after all, not only did Holland not get involved in the war; Van 't Hoff himself spent most of his life in England, and rarely visited the country of his birth), but postulate:
The whole idea of a cooperation between Van 't Hoff and Wright is, in my opinion, unlikely, especially when one considers that by this time Wright was an internationally acclaimed artist and by far the more experienced of the two, whereas Van 't Hoff had hitherto only built three small houses for friends and relatives, that had gone practically unnoticed. Therefore, I am given to suspect that Van 't Hoff's decision not to return to the USA after the war was not so much inspired by 'a critical attitude towards Wright', but rather by a critical attitude towards Van 't Hoff on the part of Wright.
Cocky or what? Luckily, this is the only flight of fancy I've found so far; for the rest, I seem to stick very closely to my observations:
Again, Van 't Hoff's meticulous attention to detail is evident, e.g. in the shallow roofgutter, which runs along the entire bungalow and ends in a minimal profile of two half circles, while the boarding underneath is emphatically notched to make its crowning as inconspicuous a s possible. This forms a shrill contrast to the cubic crowning of the copings of the Villa Henny. One could almost say that while physically the gutter is there, technically, it is not; and it would seem to approach the 'immaterial building' Rietveld would try to achieve some years later.
Pretty dull and safe, although I sometimes make me smile, as when I compare one of his buildings with Wright's prairie house design:
The comparison shows that Van 't Hoff is more reticent in the horizontal extension, notably in the treatment of the verandah, which juts out no more than does the bumper of a car.
No wonder Professor Twombly couldn't give me full marks for my paper, which, by the way, I had entitled
'The Disillusionment'
! What a cocky, opinionated, self-important brat I was then... but who knows, eh?
ETA: here's a picture of his most famous work, the Villa Henny aka 'Betonvilla' (Concrete Villa) in Huis ter Heide (Utrecht), The Netherlands: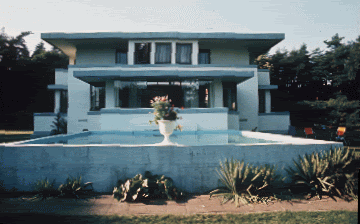 I was rummaging in a cupboard, going through lots of stuff I haven't looked at in ages and frankly, for the most part didn't remember I had. And I came across this paper that I did in the summer of '88, for Americana (one of my fourth year support subjects). It's a monograph on the early 20th-century Dutch architect Robert van 't Hoff and the incredibly small body of work he produced before strong communist convictions made him turn his back on as bourgeois a concern as architecture. Professor Robert Twombly of Columbia University, that year's guest lecturer at Leiden, gave me an A- for it. Hee. I took it in the room with me, and started turning the pages.
Current Mood:

nostalgic

Current Music:

'Close (To The Edit)'- The Art of Noise