The day had started out very well, too. We'd enjoyed a good, solid breakfast in a builder's caff in Earl's Court, gone to McD's for access to the Internet, and then, because it was such a lovely, sunny day, conceived of the idea to go for a walk through the park. Unfortunately, we took the long way round on the tube and spent half the morning underground, but we made it to Kensington Gardens at last and sort of dance-walked through them in step with
Day For a Day
on Julia's iRiver (what a nifty, envy-inducing piece of equipment that is! I wants me one of those).
After an hour's cavorting in the park, and a half-hearted search for Diana's memorial fountain which we saw signposted but couldn't locate, the others decided to go back to the hotel, while I hopped on the bus to nearby Marble Arch and Oxford St. Invoking the Customer Charter, I got the shoes I wanted for the price they had been mistagged as; and after a quick look round the other shops, I went back to the hotel as well. Again, we decided on eating and drinking at The Troubadour -- Pimm's and lemonade, and rhubarb crême brulée this time.
Eventually, we joined the queue as well; but
freakspawn
was running late, and I held her ticket...I left her name at the door, and hoped she'd make it before the show started.
After all the fuss I'd made earlier, it felt kind of funny to be there in my usual spot up front again; but luckily
anonypooh
thought to provide me with a mission, namely: to get Jordan's setlist at the end of the show. She'd taken it upon herself to report back to the Forum with the setlist every night -- the previous night, she'd been lucky to spot Jordan's list going begging long after the lights had come on; this time, she wanted us to be a bit quicker off the mark. For myself, I wanted Corn Mo's, so I kept a wary eye on both these items. To my horror, though, Delphine beat me to Corn Mo's list. Ah well.
anonypooh
had invited some of her fairy/hobbit friends along, who hadn't been to a CoRo gig before, but who thoroughly enjoyed themselves at this one. I spotted Geoff in the crowd and hailed him over -- he'd brought a work colleague along, who stayed with me up front while he went off to sit with 'the Surrey posse'.
freakspawn
made it halfway through Corn Mo's set, and since she asked, I'll say she made a drunken entrance (although really, of course, she didn't...slightly inebriated, perhaps ;-)).
When the band came on (Eric, I noticed, in those battered old shoes of his that should have been binned long ago, and all of them sporting jackets which had to come off pretty soon because of the rising temperatures), they launched into the set with gusto. And what a set it was! Some of my all-time favourites, like
Belfast
,
Offstage Lines
,
Post Modern
and
Pawn
, some of the new songs I love (
Auctioneer
,
92 Mikes
,
Surround Face
), the song Julia and I had both wanked about perhaps being played earlier that afternoon,
Given Signs
, and the UM 'Turtledove' which has been named
How To Lose
). For their encore, a hilarious rendition of
Pay Me
, with Corn Mo joining in the singing and music-making.
There was the usual meet&greet after the show, and I chatted with Corn Mo and Jordan a bit, took Lorna's picture with the two of them and Adam who just jumped in,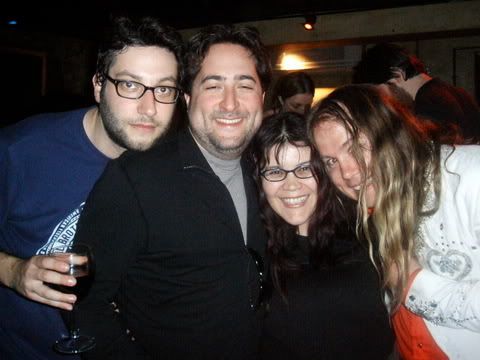 and sat down to quietly observe the after-gig melée. We didn't really stay too long, as we had an early start and a long drive up to Scotland the next morning. So off we went, back to the hotel and a Guinness in room 28, while
anonypooh
again went off in search of a working BT Internet phone booth. She didn't find one that night...but I had fulfilled my mission: I had obtained Jordan's setlist, because even though he kept moving it all through the gig, I never lost sight of it.
TITLE: BLACK BUSH
1.
Satan
2.
Belfast
- with the long long 'instrumental interlude' waiting for Adam to continue singing
3.
Given Signs
4.
More Than Once Before It Takes
- sprinkled with a little of Simon & Garfunkel's
59th St. Bridge Song
(lalalalalalala, feeling groovy!) and Tears For Fears,
Shout
.
5.
Wasted Words
6.
Offstage Lines
-
freakspawn
totally loves this song, and so do I!
7.
Gone Dyin'
Adam: "and on a similar theme"
8.
Heaven Help Me
Eric: "here's one featuring Mister Adam Busch on percussion"
Adam: "why are you laughing?"
Eric: "you shouldn't he's very good"
9.
Let It Go
10.
Plan Ahead
11.
EUTS
12.
Cowboy
13.
92 Mikes
- Eric sings while Adam talks, amazing vocal play
14.
Christian Life
- my least favourite of the evening, I think
15.
Savior
- =>
Playground
=>
Rollercoaster
=>
Savior
16.
Adeline
17.
Surround Face
18.
Bored with the USA
- getting introduced once more as an "English Folk tune"!
19.
Auctioneer
- starting with a spiel on how the whole tour, equipment, instruments and all, would be up on eBay afterwards
20. "Eric" -
Lesson Learned
=> Billy Idol's
Dancing With Myself
=>
Lesson Learned
21.
How To Lose
- sung by Jordan, Adam and Eric
22.
Post Modern
23.
Pawn
- the song that sparked off this CoRo madness in me...awww!
--------------------
Pay Me
- with Corn Mo and some interesting amended lyrics
Oh, and I almost forgot to mention this: Jared Samuel joined the band on stage to play keyboards on some of the songs, as did Brian Speiser to fill in for Jordan when he was otherwise engaged.
The thing with me is, I'm biddable. Ask me nicely to make a prat of myself, and I will. So, after we'd all sat around waxing indignant at latecomers to The Troubadour jumping the queue, who was it went to complain to the management? Me. Nice. Not only did I get sent from pillar to post, but Matt will forever think me a complete dunderhead, unless he's blessed with an incredibly ineffective memory.
Current Mood:

headache-y

Current Music:

'Auctioneer' - Common Rotation