anonypooh
had left her car; but once we had found it, and from then on, things couldn't have gone more smoothly. We had figured 7 hours, if not more, to reach Glasgow -- we did it in under 6, listening to Corn Mo and CoRo all the way. We stopped off for breakfast along the way, and drove through some stunningly beautiful scenery on the way up, notably in the Lake District, which I will have to come back to and look at some more at a later date. For now though, we were in a hurry to get to Scotland, where I had the ulterior motive of meeting up with Carol, who I'd 'met' years ago on the BBC boards, and who had agreed to meet me for coffee and a real life chat. We found the hotel without too much trouble, but were told our room wouldn't be ready for another hour yet, and so we decided to look for the venue first, O'Neill's in Sauchiehall St -- which was basically the street we were on, so it could't be too far away. It wasn't, and so 15 minutes later we found ourselves in Starbucks opposite, from where I called my friend while Julia and Sherry asked for directions to the nearest Internet café. Back we went to the hotel, and checked in. I noticed an error had been made, and they expected us to pay £70
per person
for the room, but Jules had brought the confirmation e-mail that stated that the room was ours for £75
per night
, and so that was changed and we got our key. The room was beautiful: light, airy, spaceous and very comfy, with all the mod cons and a little ensuite...a steal at only £25 a head!
I had first dibs on the bathroom, and I'd only just finished my toilette when the receptionist came to inform us my friend had arrived and was waiting for me in the lobby. I said goodbye to my roommates and went off to explore Glasgow with Carol, who took me to the West End and university area. We had coffee, went shopping, and had a leisurely walk through the park, because the sun was out and even though the wind was still cold, as long as you could manage to stay out of it, it was glorious. Of course, I only saw a little bit of Glasgow, but what I saw, I liked -- I will definitely have to come back for a longer stay some day. All too soon though, Carol had to go; and I went back towards the other side of town in the hope of finding my fellow travellers. I didn't find them at the Internet café in Hope St, but as I was getting peckish, I bought a sandwich and made my way back down Sauchiehall St (which Carol had told me was named for the poplars that used to line it in olden days) and popped into O'Neill's to see if they were there. They weren't, but as I came back out, I spotted them across the street, where
anonypooh
had again found another Internet phone booth. She was just finishing up her previous evening's report when I joined them. Eric came out, and walked down the street with his guitar case in his hand. We had about an hour before the doors would open, which meant we went back in for a drink or two.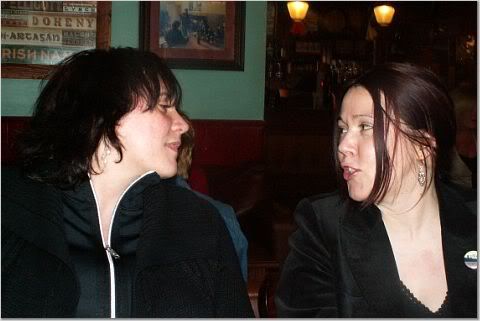 The venue was a large backroom with a bar to the side and a slight elevation at the back, wooden floors and a few seats, which by the time we had ordered our drinks and turned round, had all been taken. However, having walked all over town for hours, I really did feel my ankle quite badly, and I asked the German contingent to give me a little room on the bench they were hogging. When Corn Mo started
We Are The Champions
and I couldn't get them to sway and sing along, I joined Jules and Sherry on the floor, and stayed there for the rest of the night. I snagged his little setlist after he was done playing.
Caro
Lollipop
Angel
Maybe Tonite
Bye
Get Me Off
Be My Love
Girl On a Wire
SONG
Champs
Jason
Havi
it also lists two further songs:
Walking on Air
and
Busey Boy
, which he didn't play. In fact, his sets didn't vary much from show to show; a fact that he was conscious of when he mentioned to us that he hadn't anticipated seeing the same people turn up night after night, and he worried whether they might not grow bored with it. Of course not! For most of us, this tour was our introduction to Corn Mo, and it was nice to hear the songs repeated so we could sing along by the end of it. Besides, he took a request in this show, and did
Robert Holliday
.
The setlist wasn't enough of a souvenir though, and I went over and bought one of his CDs and a DVD, which he was kind enough to sign for me.
When CoRo came on, they started with
Day For A Day
again, followed by
Indie Rockin'
and
GIVE IT UP
01.
Day For A Day
02.
Indie Rockin'
03.
Auctioneer
04.
Definitive Biography
- on Thursday this was sung with some Beatles lines from
And Your Bird Can Sing
05.
Gone Dyin'
06.
Heaven Help Me
07.
Answering Machine
08.
Bored With The USA
09.
92 Mikes
10.
Surround Face
11.
Offstage Lines
12.
Near Miss
13.
Belfast
- with added fireyness: Eric started singing
I'm On Fire
(Bruce Springsteen), which led on to both swapping turns on lyrics to
Ring of Fire
(Johnny Cash),
Fire
(Jimi Hendrix),
Fire On The Mountain
(The Grateful Dead),
Light My Fire
(The Doors) and Adam finishing with
We Didn't Start The Fire
(Billy Joel)
14.
Cowboy
15.
Pay Me
- with Corn Mo again. So much fun with the four of them on this.
--------------------------------
16.
Cinematographer
17.
Wasted Words
18. Eric solo on
La Ti Da
19.
How To Lose
This gig stands out in my memory because it was so intimate. The venue was by no means sold out (Adam at one point mentioned "64 and change" as the number of attendants), there was a very relaxed atmosphere, and I don't think they dimmed the lights at all, or all that well. There was also a Glaswegian fan who wanted to hear
Sit Down
, and shouted this out at the time the band were getting ready to perform
Cowboy
. "Okay", said Adam with his usual aplomb, "Whatever you want, it's your show..."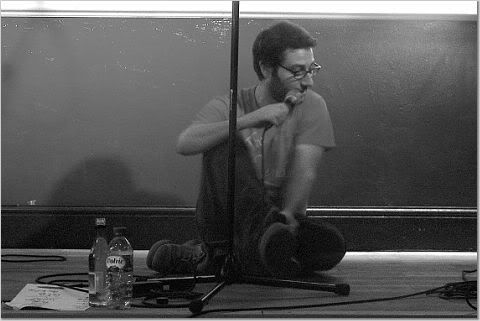 "No", she tried again, "Sit down and sing that
Sit Down
song"; but to no avail, the band launched into
Cowboy
sitting down. They stood again for the next song,
Pay Me
, on which Corn Mo joined them, but after this, Adam decided we'd left them plenty of room in front of the stage and they've been doing plenty of living rooms, so next we got an extended off mic section. During his solo, eyes fixed on that screw in the wall, Eric very nearly trod on me and my bad ankle, and I barely managed to scoot back in time.
Again, the band came out and mingled after the show. We had a chat with Corn Mo, and Adam, and Jordan; and at one point, I found myself cornered by a man called Jimmy, who smelled of booze and talked complete bollocks, but who was pretty harmless and quite entertaining in his own unique way. Apparently, he's been banned from quite a few pubs in Glasgow, though I can't imagine what for. Anyway, I suppose I proved quite a disappointment to him, as I couldn't guess what celeb he was trying to impersonate; and when I came back with a tentative "Sweet little mystery?" on his expectant "Sweet mystery, I've found you", which he kept repeating while looking up at me with bleary eyes, he finally stalked off, but not without telling me I lacked education.
I went to pick up my photos earlier. They weren't there yet, so this entry is once again illustrated by pictures from Julia's
Shutterfly album
Because London looks so very, very different in the early, early morning, when it's all quiet and peaceful and deserted, we began our epic journey up North with a demented half an hour's search for the carpark where
Current Mood:

relaxed

Current Music:

'Hey Lena' - Common Rotation