We left Glasgow after a hearty breakfast, and again encountered no delay on the motorway. We got to Liverpool and our hostel well before midday, and noted to our delight that an Internet café existed right next door, and that's where we spent our first hour in The Beatles' hometown while waiting for our room to become available. When it did, we quickly freshened up and stored away our belongings, and then we went to park the car somewhere where we didn't need to top up the meter every 1 1/2 hours. Thereafter, we were free to explore our surroundings, and off we went after leaving a note and the key for
onecheekyhobbit and
freakspawn, who would be joining us for the gig.

Liverpool...once you get to the Cavern quarter, it's all Beatles. Every shop you enter, if they don't sell Beatles stuff, they play Beatles stuff; every pub you set foot in, has a picture of the Beatles having a pint in it; and every shop front proudly displays the most tenuous Beatles connection on a plaque. It's also a city that's going through an economic revival, and consequently, there's a lot of building activity going on -- with added pressure from its having been designated European Cultural Capital 2008.

Personally, I was quite taken with the RC cathedral, which is great and modern and quite overwhelmingly beautiful in a 60s brutalist kind of way -- I recognized and remembered the building from my Modern Architecture classes, but not the person responsible for its design, an architect by the name of Sir Frederick Gibberd. Huh.

Anyway, we had a touristy wander and found our way to The Cavern, where we were surprised to see another band posted as support act while Corn Mo's name had been pencilled in on the poster on the door. After a while, we heard from
freakspawn and
onecheekyhobbit that they'd arrived, and met them in a pub. Actually, we met
freakspawn outside one of the Beatles memorabilia shops, and she warned us that Eric and Matt had just gone inside, and that Eric had muttered "Everywhere..." under his breath as he passed. So, not wanting them to get the wrong impression, we retreated to the pub to wait for
onecheekyhobbit, the ultimate Beatles\George Harrison fan, to finish her purchases for the day and join us.

We had dinner in a restaurant not far from the venue, then went in and joined in with the rest of the patrons and a man up on stage in the main room singing Hey Jude. I noticed a few familiar faces in the crowd and went over to talk to them, and then the band and Corn Mo walked by and said hi. Somewhat later, it was showtime.

The list was pitifully small, and the room quite big and empty. There was a large bar area to the side, where some people chose to take up seats, but most gathered around the stage and settled in for a wait. It didn't take long for the first act to come on. A local band, they introduced themselves as Redstone and started playing -- and they were fabulous. They reminded me of Oasis at their very best a bit, and the singer, Macca, mentioned that 2 of their songs would be included in an upcoming Jekyll & Hyde-movie. I was sad to see them vacate the stage after their set, and dismantle their equipment, because I would have liked to have heard a little more. Corn Mo was up next, and finally, CoRo.


TITLE: Bird 4 Sale (Buy A Bird)

1. How To Lose
2. Belfast
3. Definitive Biography - stripped of the Beatles references that had made it into it earlier on in the tour
4. EUTS - couldn't go two shows without it, could we!
5. Afterthoughts
6. 92 Mikes
7. Post Modern
8. Wasted Words
9. It's Always More Than Once Before It Takes - interspersed with lines from songs about 'heaven'
10.Auctioneer
11.Bored With The USA - hogging the cover slot again. Quite bored with it already.
12.Patients
13.Surround Face
14.Indie Rockin'
15.Clear Channel
16.Gone Dyin'
17.Pawn
18.Fortunate
19.Plan Ahead

---------------------

Old Shoes and Picture Postcards


There aren't words to express how much I love hearing this band. Four nights in a row, and still I was nowhere near sick of them! And yes, I realise I'm biased now, but if I think back to that first show I saw them do at Moonlight Rising last year -- they were just so good and they still are! I mean, even Redstone were impressed (as per their bass player), and they'd done a fantastic set themselves! Ahum. Back to the report.

Just before CoRo came on stage, I knocked over a drink that someone had left on the edge of it. We quickly soaked up the fluid with tissues, but later, during the gig, Jordan suffered a minor mishap in that his sound suddenly stopped being amplified. It was the first of 3 little accidents he suffered during this show, and we talked about it later.

Of course, we hung around again after the show.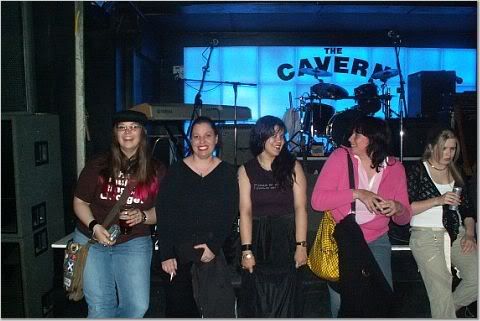 onecheekyhobbit,
roissy0,
freakspawn, me, and Naomi

I went off to talk to Corn Mo for a bit; he told me of his plans to go to Norway later on in the year -- but when the band came out, followed by Brian videotaping the whole thing, I hung back. I didn't feel like I had anything of interest to say and I certainly didn't want my picture taken, because...well, you've seen the one of me and Jordan ;-)! Besides, I was wearing the hard pink cardie of yuck (slight miscalculation there -- after going out, we didn't return to the hostel for a spruce up before the gig! -- it's bad enough it made it into Julia's album).Then Jordan came over and talked to us for a long time. Still worried about possibly having caused his guitar to blow up, I confessed to having spilled a drink on stage, at which he informed me I owed him $17.50 for a new cable -- just kidding! He was certain it couldn't have been my clumsiness. Phew!

The bouncers were just getting ready to tell us to leave, when Eric came up to me, expressed his appreciation for the fact that I'd been to all four shows, and hugged me most heartily.


roissy0 left quite early in the morning of the next day; and as soon as the rest of us had had a cup of tea and some toast, we were out on the town again.
onecheekyhobbit was our guide to all places with a Beatles connection, and we covered quite a lot of Liverpool centre on foot before we hopped on board of one of those touristy open top busses for some serious sightseeing. Having gone round once wasn't enough -- getting off at our starting point, we immediately boarded another bus (our tickets, the bus driver had told us, were valid for 24 hours after purchase) and took it to the nearest point it could get for picking up our luggage. And then, sadly, it was goodbye to
freakspawn and
anonypooh, who were driving to Coventry; while
onecheekyhobbit and myself went to collect our tickets and drink a final coffee at the station. Then she boarded the train for Edinburgh, and I took the one to Birmingham.

My pictures have still not materialised. I'm getting very worried now.