Last week, while I was still busy figuring out how my digital camera worked,
bogwitch requested I post a picture of my favourite shop. I said I would. Unfortunately, I haven't had a chance to actually go there yet...I hope she'll forgive me for cheating: here's a picture not taken with my new camera in or of my favourite shop in Holland, but instead it's one of me inside my most favourite shop of all: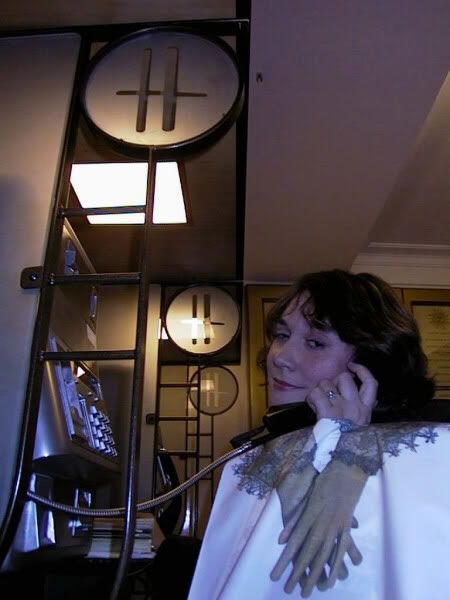 Tacky, I know, but there you have it: out of all the shops in all the world, quite possibly I love Harrods best. It's got everything. Friendly staff; clean, spacious powder rooms well-stocked with makeup and perfumes; lovely bedlinens and porcelain tastefully displayed...I can easily spend hours going round the millinery and shoe departments alone, and I especially love-love-love to have a wander through the foodhalls, picking up a few things to munch on while I'm there. And it's not just the foodhalls -- how about the chocolate bar on the 6th floor? It's the perfect place to sit down, rest your feet and sort through your purchases. And I like to meet my friends in the tapas bar downstairs. Or slurp champagne and oysters on those days I'm feeling decadent and devil-may-care.

The only thing I don't like about Harrods is the crowds. And the fact that they've thrown out most of the haberdashery department a year or two ago.