Blast! I missed Gilmore Girls again! Why is it that whenever I come across a show I like, I invariably forget what day it's on?

Griffin House is going to be playing London in a few weeks -- it's a pity I can't go, esp. since
anonypooh and
freakspawn have already voiced their intention of being there. Julia introduced me to his music on the drive up to Scotland, and it sounded quite good...He was also really quick about friending me back on myspace, and now I feel like a bad, bad friend for not going to his gig, but I still owe Lare £44 and Pat £52, and with my future as uncertain as it is at the moment, I just can't see how I could squeeze it in...

As to my recent CoRo adventure, I'd taken my new digital camera with me on my trip, but I might as well not have bothered: not only do the batteries on it run out like you wouldn't believe, but after inserting a memory card, I found out that the slot was faulty...or it must be since the card seemed okay when we tested it in Julia's camera. After that, I just couldn't be bothered, really...



Here's one of Common Rotation on their first night in the Troubadour -- I'm not sure when it was taken exactly, but I think it was quite early on in the set: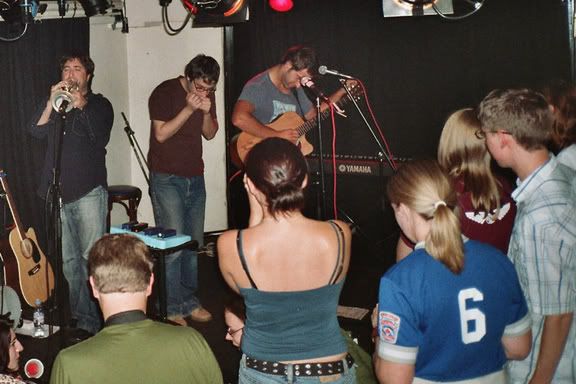 And here's one of Corn Mo in the middle of performing Havi Nagila Monster in Glasgow -- Queen of the Blurry Photograph, that's me -- this is my clearest shot of him! The rest is just awful.