I found a fantastic eatery in which to eat, drink and while away a cold and drizzly afternoon, called
Arcadi
in the Galerie du Roi/Koningsgalerij; and a cosy little coffee shop,
Aroma
on the Grand Place/Grote Markt, where they sell the most delicious coffee-and-cinnamon concoction you've ever tasted.
I went to Brussels in the company of my sister and her children. We stayed in
this hotel
where rather than letting the rooms go unoccupied they let us have them at 35 euros instead of the advertised 210 euros a night, and where the breakfast included in the price was superb.
Early in the morning, we took the train to Brussels Central from The Hague. When we arrived, we came upon the floral tribute to the poor 17-year old lad who had been stabbed to death at the station days earlier by a Polish youth out to rob him of his mp3-player.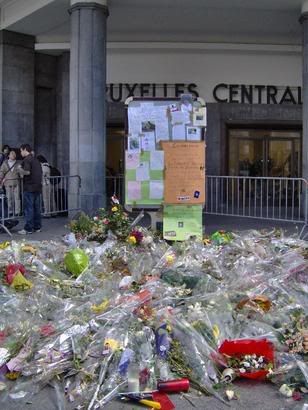 We had Belgian waffels for brunch, dropped our luggage at the hotel, had a walkaround and found a playground where Romeo, helped by big sister Soraya, agreed to try out the swings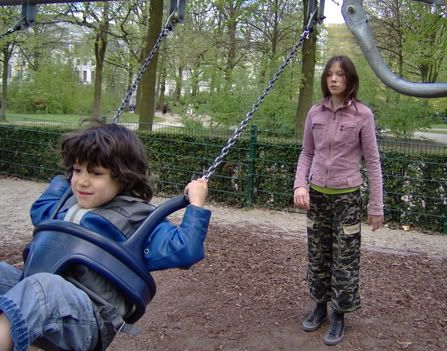 Later, there was some Belgian beer to sample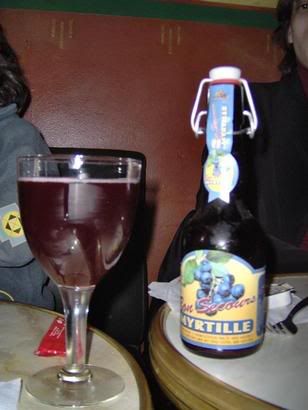 and taking a ride on an open top bus, we saw all the sights, including the newly renovated Atomium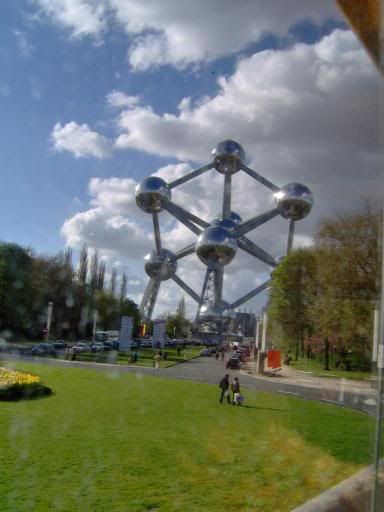 after which we got off to find Manneken Pis, a big hit with all the tourists and especially, the Japanese -- all we had to do was follow them!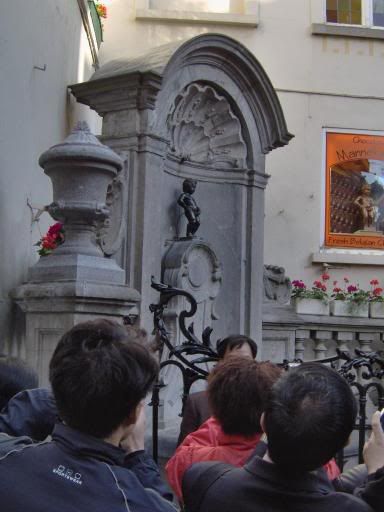 Unfortunately, when I got back I found that another of my immediate colleagues had left us. That brings the total up to 5 people since the beginning of March, and Fatima will leave to go back to Spain at the end of the month.
Considering it's only a 2 1/2 hour train ride away, it's amazing really that I'd never actually spent any real time at all in Belgium's capital before now...I'd passed through the city a couple of times, always en route to somewhere else, but never realised that if I stopped and looked around me, Brussels itself might have anything to offer. This past weekend has changed that, though. Brussels is a wonderful place, full of great shops, palaces, parks, churches and museums. It also has a metro system that is easy to navigate, a divers population and a wonderfully friendly, multi-cultural atmosphere
Current Mood:

mellow

Current Music:

'Black Milk' - Massive Attack