So I specifically took this 'holiday' to get things done around the house; notably, the kitchen which after 8 years of intensive use could do with a good clean and a lick of paint/emulsion. I spent a couple of hours on it yesterday, but I'm nowhere near finished yet and I was just beginning to think that I might have bitten off a little more than I could chew when a friend rang to offer belated congratulations and to mention, a propos, that he was at something of a loose end as well, having taken a couple of weeks off but not having managed to snag himself that last minute seat to Macedonia. He proposed we spend the afternoon traipsing around his adopted hometown of Delft and, sick of scrubbing floors and walls and whatnot, I readily agreed.

After the initial round of coffee, cake and catching up on each other's news, we went for a stroll along the streets of this tourist trap of a town, and it wasn't long before I spotted something of interest (to me) in one of the many shops fronting the Market Square that sell antique Delftware. Now remember that I had just had my birthday two days before, and my parents had given me x-amount of euros to buy myself "a nice present, something you really like"...and so 3/4 of the money went into the purchase of this: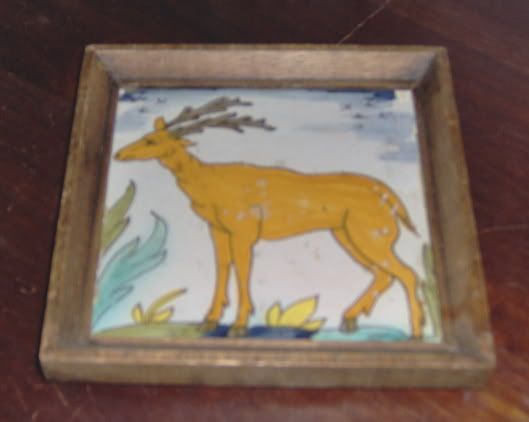 It's a tile, but not Delft. Its provenance is likely to be Persian, based on the physical characteristics of firing technique and style of decoration, and it dates from around 1700. I tried to turn my back on it and leave it there, but I couldn't; and I handed over my birthday money while my friend shook his head in the background, amazed that this kind of junk actually sells.

Now, although I'm very pleased with this find (which I intend to put up in the hall), this is by no means the best buy of the day, because that distinction will have to go to my new dining table and chairs. These had been on my list for a long time, and today, I finally found them.

When I moved into this flat 9 years ago, I brought very little furniture from my previous address over to it. I bought a new bed, a new couch, a new desk, a couple of antique side tables, some carpets, some rugs and some bookcases...and then I ran out of savings. One of my friends came to my rescue and loaned me their antique table and chairs that had become surplus to requirement in their home, until such time as I would have found the wherewithal to purchase my own. They've never asked for it back and seem to have forgotten all about it, but over the last almost-decade I have been very careful of the set, acutely aware that it isn't really my property. Last week the unthinkable happened: someone went through the caning on one of the chairs. Taking stock of the damage and the condition of the other chairs, I decided I had two options: either to have them all re-woven (so they'd all be the same colour again) at probably astronomical cost, or to find myself a new table and chairs.

I found them in the Recycle Shop, a table and 4 chairs in mint condition; and the table extends at both ends so that it can easily seat 4 more. It's of indeterminate age, probably a new antique in that it's no more than 40-50 years old, quite old-fashioned in style but not without a certain charm...I wish I could show you a picture, but they couldn't organise the delivery to take place before Aug 17th...Which means that in addition to doing up the kitchen as per my original plan for this week, I will now have to find the energy to clear out a space in the cellar in order to temporarily store my friend's dining room set.