A certain group of gentlemen was just finishing their breakfast as we came down the next morning. We were in no hurry, and enjoyed everything the hotel had to offer in the way of fresh fruit, cereal, and cooked and continental breakfasts. Our taxi came for us and took us to Belfast City airport, where we checked in, purchased some large mochas and teas and then went back out again to enjoy them in the sun. Security was tight and poor Julia's chargers and gadgets were all taken out of their protective casing, leads unwound and everything wiped down and tested for chemical residue...but while the guard's attention was thus preoccupied, Christiana managed to slip through the net with her bottle of perfume safe and sound in her hand luggage.

We caught up with Nai at Glasgow International, arriving at approximately the same time despite the fact that she had had to leave Belfast a considerable amount of time ahead of us, so yay! for Belfast City. After collecting our luggage, we hopped on the bus, and got off near Central Station. As it was still too early to check into our hotel, we left our luggage at Tori's and went in search of coffee/tea. Thus fortified, we fetched our luggage back once more, piled into a taxi, and arrived at our hotel at around 1pm.

Julia and I had arranged to meet with friends in Glasgow, while Nai wanted to catch up on her sleep; but first, we had to check out where the venue was. And there, scarcely 200 yards from our hotel, I stopped dead in my tracks as I came face to face with Charles Rennie Mackintosh's 1898-9 Glasgow School of Art.




Gingerly, I touched the hallowed stone. I could not believe my luck in chancing upon this building, that up until that moment I had only seen plans and pictures of...But we had things to do and I only had about half an hour before I met my friend, and so I tore myself away from this landmark of modern architecture in Scotland. G2 was quickly located as it was just around the corner, and I left the others in a pub as I went to find my friend.

It was good to see and catch up with her again over coffee and a delicious all-kinds-of-berries pie in a traditional yet trendy Italian restaurant, after which my friend took me to see The Willow Tearooms, in which the Charles Rennie Mackintosh decor is still preserved, and back to the hotel walking past the Glasgow School of Art again.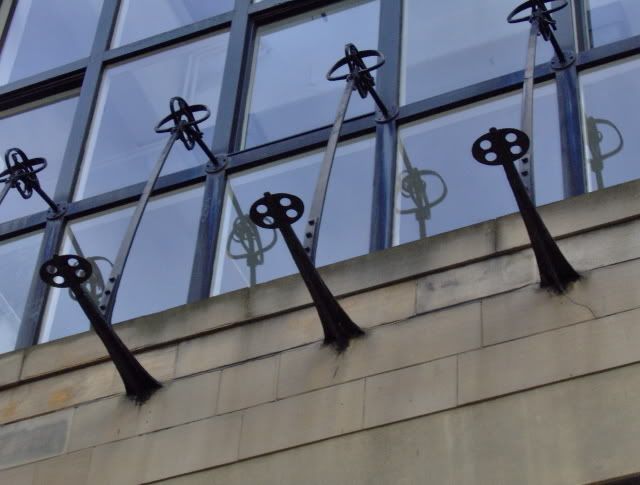 Nai woke up shortly after I got back to our room, and got ready to meet with her friend, and I went back out again to meet with Christy, Jules, and CoRo & Corn Mo virgin
kathy1975, who would be coming to the gig with us. Soon, we received a call from Tori asking us to meet her and Jay in The Local for a drink before going on to G2, and we did and we all had lovely shots with funny names. I remember mine was called Fireball and made up of Absinthe, Aftershock and Goldschläger, and it was yummy, and only £2.50...

Then Nai arrived to drag us over the road, and it was party time!

TBC