I got a text from
grimma
saying she and her party were at the bar and there was no one, and I texted her back saying I was delayed but on my way; then I decided that since I was already late, I might as well check in to my hotel first, drop my stuff off, and get a taxi to take me to Le Soleil de la Butte. Then of course, the taxi got stuck in traffic, too. Still, I think I got there within half an hour. When I entered the venue, I heard some music coming from the basement, but it wasn't any song I recognised. I went downstairs, opened the door a crack and -as Adam would later say- 'snuck in'. He and David were sitting at the merch table near the door, and the welcome I received from them both was heart-warming.
The basement bar was tiny, but had obviously filled up with people since
grimma
's text message. David found me a chair while I found myself
une bière
as travelling is thirsty business, and then I settled down to listen to Thomas Brun, the French singer-songwriter who had agreed to provide the opening. Singing in both French and English, he proved very entertaining and in some places, downright hilarious -- everyone enjoyed his set.
After he'd finished,
grimma
came over and we chatted a bit till David took the stage and an expectant hush descended on the crowd. Except for myself, David's friend Stéphanie who had organised the gig, and Common Rotation of course, I don't think anyone in the audience had ever actually heard him before, but judging by the interest at the merchandise and speaking to people afterwards, I know he made many new fans that evening.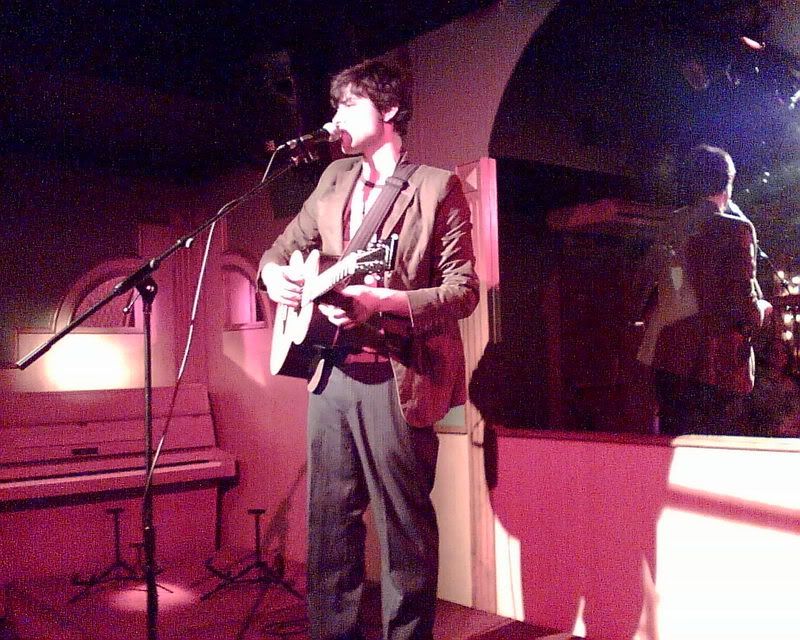 Shortly after he'd started on his set, a big and rather loud group of French
BtVS
-fans arrived. They had come to see Adam and check out his band, but didn't initially have the grace to come in quietly or hide their excitement at being in the room with their idol just a few feet away; so I took my chair and moved up front. Soon however, David's spell worked on the latest arrivals as well. He was on fine form, and everyone who has ever been to one of his shows knows he likes to talk inbetween songs -- well, in France he likes to talk in French. He's very self-deprecating about his ability to speak the language, but in all honesty, he didn't do at all badly, and the audience clearly appreciated him making the effort.
Then it was Common Rotation's turn. Minus Jordan, who is touring with the Wutang Clan ("Seriously," said Adam, "I'm not that funny. I couldn't make this up"), but was he missed? Yes and no. Obviously, without him, all songs have to be performed stripped of banjo/horn/trumpet, but the stripped versions sound fresh and new and allow you to hear other nuances to old -as well as not so old- favourites. In the end, all I really missed of Jordan were his dimples ;-).
Anyway, they say a picture tells a thousand stories, and I have a million things to do before returning to work tomorrow, so: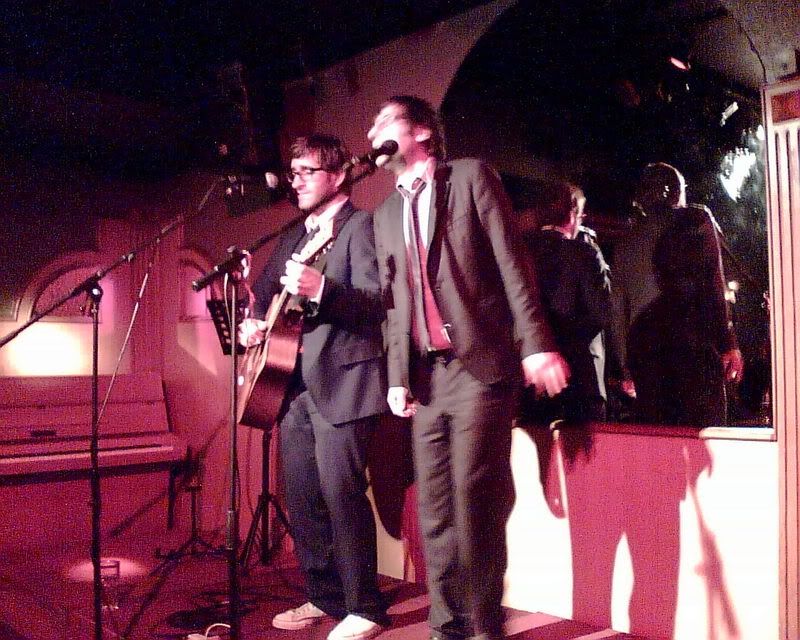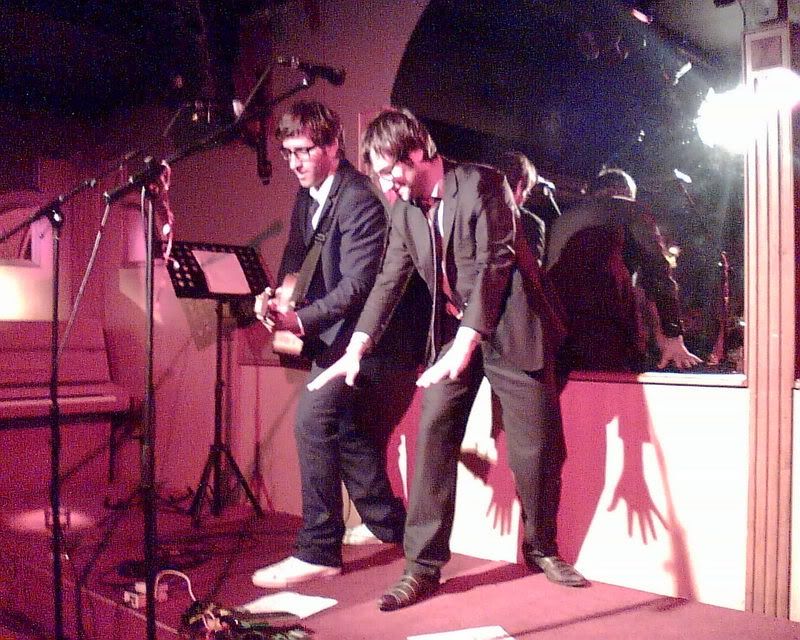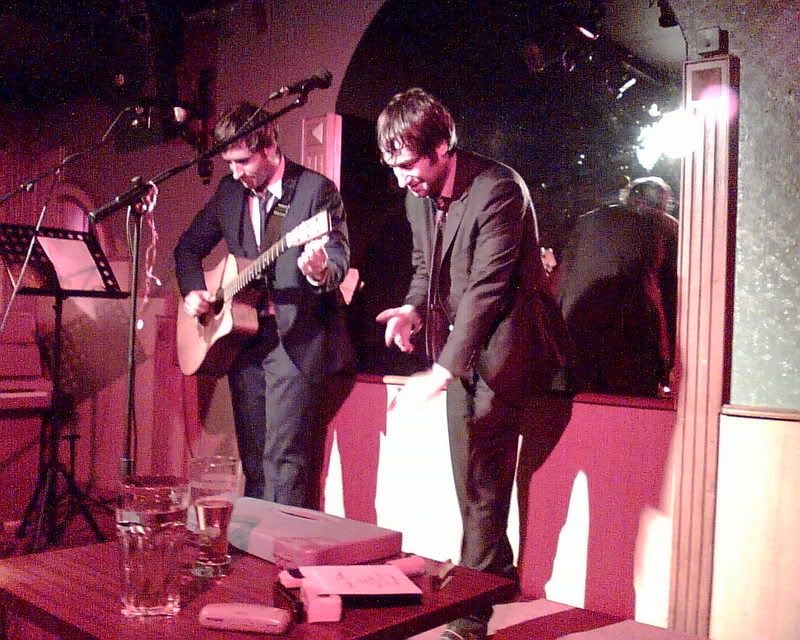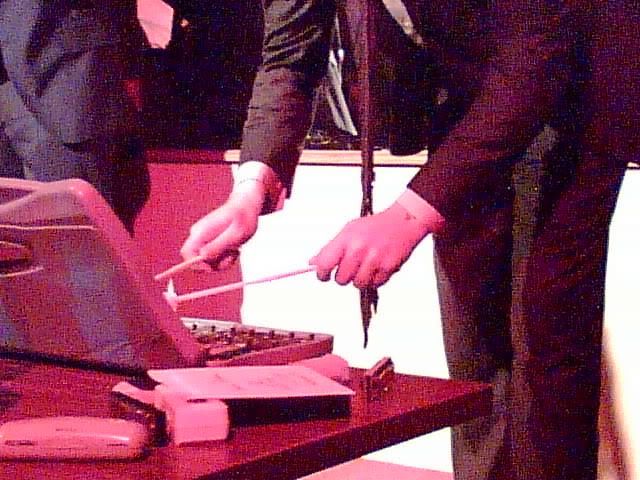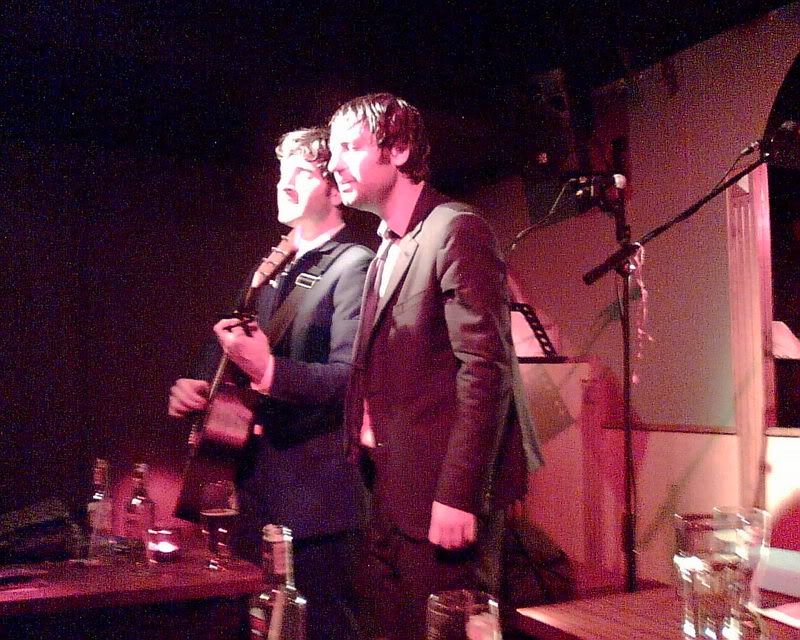 (tbc)
I took the cheap and cheerful option of a coach ride to Paris last Sunday morning, thinking it would get me there in ample time for the gig that night. But instead of the 5-and-a-bit hours I had counted on, it took more than 8 long and gruelling hours, even though we reached Brussels in 3. At 6:45pm, at the turnpikes 27 kms outside of Paris, all traffic ground to a halt, and for the next three-quarters of an hour we barely moved. We finally turned into the bus terminal at Gallieni at 7:50pm, which meant I had all of 10 minutes before the gig would start halfway across the city.
Current Mood:

calm

Current Music:

'Sweet Auburn' - David Berkeley