I'd wanted to take in the Terracotta Army exhibition at the British Museum, so I made sure I was there early the next morning. Unfortunately, the only time slot still available that day was 2:40pm, and so I found myself wandering around Covent Garden and Neal St, the location of some of my favourite shoe shops. But the purple suede flats I tried on in Miss Sixty pinched a bit, and whatever the sales assistants may advise, I do not do 'one size up and use insoles'. I drifted into Office, but the silver wrap-around boots I liked were only available in my size in black -- if I'd wanted black, I would have asked for black, wouldn't I? All in all, my morning was going splendidly: I was pissing off sales assistants left and right by making them look for shoes that I ended up not buying, and feeling pretty good about it. Then I made the mistake of going into Jigsaw.

I like Jigsaw. They've got some really nice clothes, but they're pricey, and so I usually only shop there when there's a sale on. There wasn't one this time. But, recently having dropped two sizes, I needed something that would fit, and I saw a lovely pair of green cord trousers that at £60 could be classified as affordable..."Shall I take these into the fitting rooms for you, so you can look around a little more?" a sales assistant asked. Stupidly, I said "Okay". £92 For a green tweed skirt? Though it is lovely, and beautifully cut..."Oh, that would look so good on you, and with those boots..." The skirt followed the trousers into the fitting rooms. As did a lovely green cami. And as I was trying these on, the sales assistant kept bringing me gorgeous other items. She seemed to know exactly the type of clothes I can't say no to -- orange cashmere sweaters and cardigans, long leather gloves in a beautiful brandy colour, a green leather belt to accentuate my newly returned waist, another pair of orange leather gloves, a burgundy dress...Half an hour later, I left the shop the poorer by £400!

But at least I've got some clothes that fit now.

I went back to the British Museum in the afternoon. I might as well not have bothered, as I went through the exhibition in 20 minutes. I thought the idea behind the time slot system was to manage the crowds and ensure that everyone got a chance to see the items on display, but that didn't prove to be the case. First off, there weren't that many items to see, and secondly, there were far too many people let in at the same time for anyone to be able to see anything. So I left.

I met up with Jules at Mornington Crescent, and from there we walked over to Parkway where we had a lovely chicken, chips and banoffee pie dinner at an Italian caff. Jules had a terrible cold, but like the night before had come armed with Lemsip which did seem to do her some good. After dinner, we went further up the road to The Dublin Castle, to see David in concert again. We were a little early, and after his soundcheck he joined us in the bar and we chatted about websites, setlists, and touring before he had to go and get ready.

He did a rather short set that night, but it was lovely as usual. I <3 this man's music so very, very much. It's melodious, evocative, imaginative, inspired and poetic...ack! I lack the words to describe it accurately.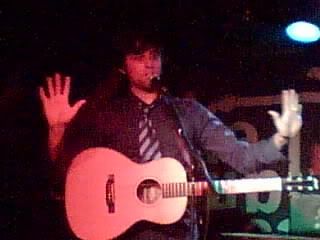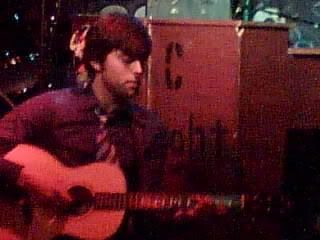 We didn't hang around for long after the gig. We just got our personalised (with David's doodles) cd-s and stepped out into the suddenly very cold night.

(tbc)