I got back from my trip late last night, and had to get up early to go to work (the less said about that, the better). Consequently, I'm pooped...but at least I've had a terrific time in London this weekend.

I got into Luton to find things had all changed on the railways, and I could now get into London quicker and cheaper from there than before, which put me in a very good mood. I spent an hour or so window-shopping in Oxford St, received a promotional goodie bag from a newly opened Scandinavian glassware shop in Regent St that contained -among other things- a very nicely bound notebook, and met up with
anonypooh outside the B&B in King's Cross where she'd booked us a cosy little or in estate agent's speak bijou room and en-suite at a mere £30 a night -- not bad for Central London, I'm sure you'll agree! We dropped off our stuff and had a cuppa; then went over to
miss_fairfax's flat in St. John's Wood for more tea and pre-performance squee. We went back into town towards the end of the afternoon, to meet
tori_x for an early supper at The Chinese Experience in Shaftesbury Avenue. Both the Mongolian Crispy Lamb and the Stir Fried Prawns with Cashew Nuts that I had were to die for; and the prices were altogether reasonable.

And then it was time to go and see Lee Mead in Joseph And The Amazing Technicolor Dreamcoat at the Adelphi. The guy at the merch kiosk was really sweet and did Julia a deal: he swapped the boring £3 poster she'd resigned herself to buying for the glossy Lee-in-swirly-coat one that normally only comes included in the £10 programme & brochure package.

The theatre was completely sold out. We were in stalles, at the very back, but with a good view of the stage nonetheless. Which was tiny, but then, the Adelphi isn't the biggest of venues. And when Lee made his entrance, everybody sat up...which unfortunately took away from my view a little. But as I was sitting in an aisle seat, all I had to do was lean out a bit more. I'm not sure how the others fared.

It has been reported in the media that Lee is quite shy in real life, and perhaps this accounts for his tendency to look at the floor for long moments in the performance. But he also has a presence, an enthusiasm, a gusto when he's on stage singing, he has a really good voice, and as
miss_fairfax remarked, he has really good legs, too; so it's easy to forgive him this little quirk.

I enjoyed the show tremendously. Lee and the rest of the cast were on fine form, and I loved the stage setting, the costumes (esp. that of Potiphar's evil wife) and the props. It all ended much too soon, but the standing ovation they received at the end was well-deserved.

We went round the back to the stage door, surprised at the fact that we were practically the only ones, only to be told by theatre staff that Lee would come out for a signing at the front. We got back there and joined the crowd at the back. Again someone came out to tell us Lee would be 5 minutes, and that in addition to signing autographs for those who had thought to bring items for his signature, he would also hand out a stack of signed photos for those that hadn't. In the end, I managed to get hold of one, but someone else who obviously wanted it more yanked it out of my hand. A group of five young American tourists looked on in amazement.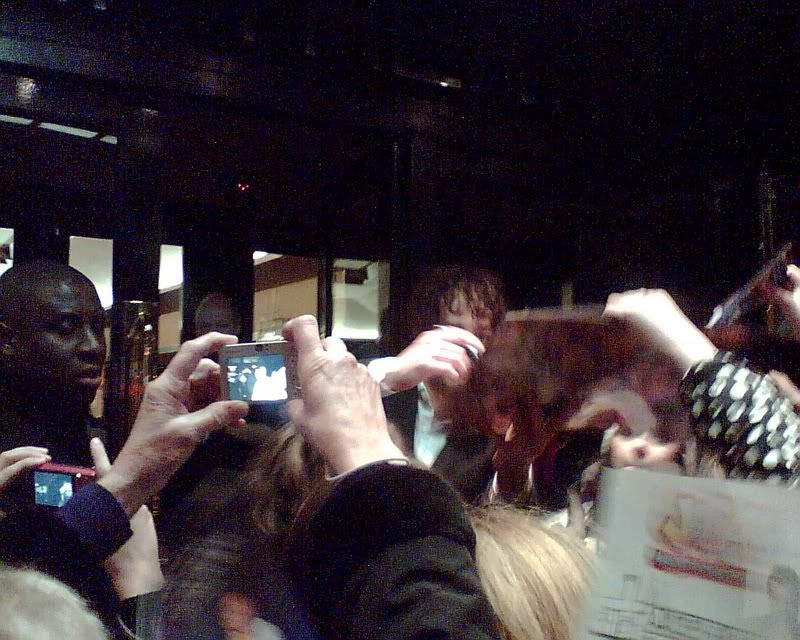 see those curls? that's Lee, that is


After he'd gone back inside, the crowd dispersed pretty rapidly, while we went back to hang around the stage door, where we spotted various cast members leaving. Some were even stopped to sign autographs by a few of the die-hard fans that had assembled there. Eventually, one of the security staff came out to tell us that if Lee hadn't left already, and he might have done as the place apparently has 19 exits, he would probably stay till very late; but if a signed photo was what we were after, he could go and get us some. And he did.

Which left us free to go and have cake in Leicester Square's Rendezvous. ;-)

(tbc)