Twelfth Night, or Jan. 6th. I had planned on having a little lie-in, but check-out time was 10:30am -- and for some reason, neither
anonypooh nor I managed to sleep for very long. In fact, we were up at the crack of dawn. We parted company for a few hours after breakfast, during which I took myself off to Camden market, but met up again at noon at Mansion House to go wassailing.

It's an annual event held at Bankside, and it's free. Jules had found it on her little brick that morning, and it seemed like it might be fun, so we'd decided to go check it out.

We got there early, and found there was hardly anyone there. So we took ourselves off to the nearest Starbucks for hot beverages and a bite to eat (the weather was beautiful but there was a cold wind blowing from the river), and when we got back, the place was packed. Still, we took up positions in the crowd, and watched events unfurl.

First, the Holly Man arrived by boat, and came to land by the Millennium Bridge. I took a picture, but I was too far away from the scene and it didn't come out very well.

After that, I found a better spot from which to view the proceedings.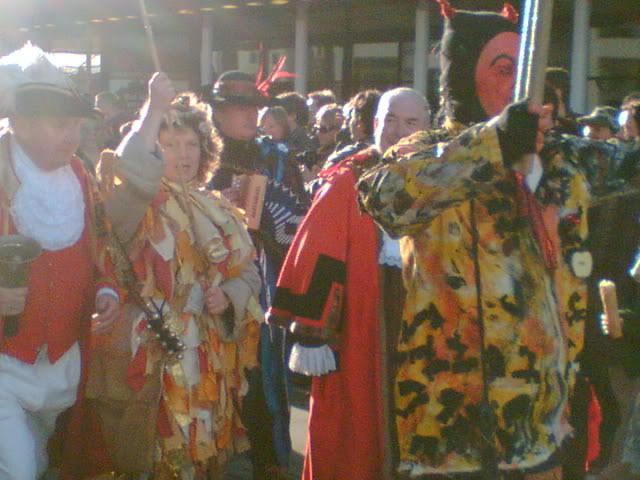 From one of the side streets, a parade hove into view. They passed me by and went to meet the Holly Man who was waiting for them by an establishment called The Swan.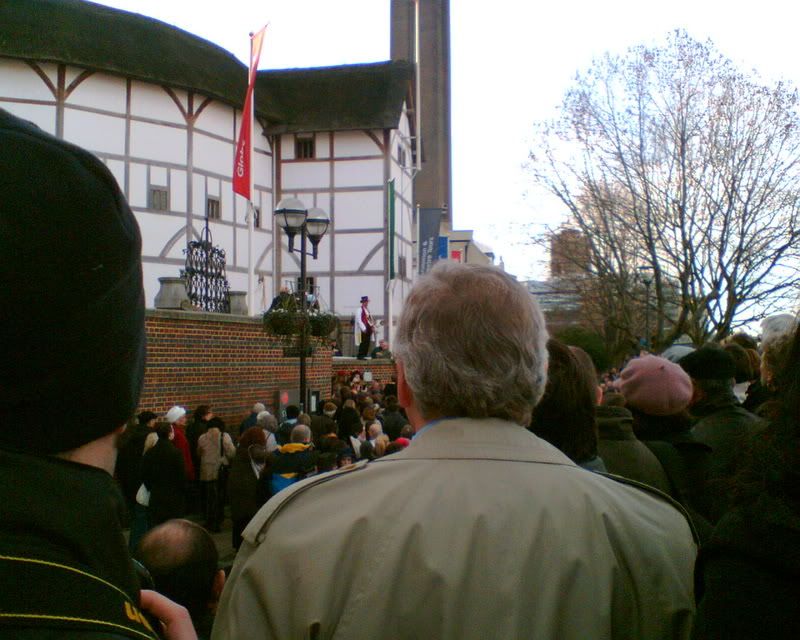 One of their party got up on the wall and amid much cheering and frolicking, declamed the age-old formula Here's to thee, old apple tree, That blooms well, bears well. Hats full, caps full, Three bushel bags full, An' all under one tree. Hurrah! Hurrah! It threw me a bit, as I didn't think there was an apple tree on Bankside.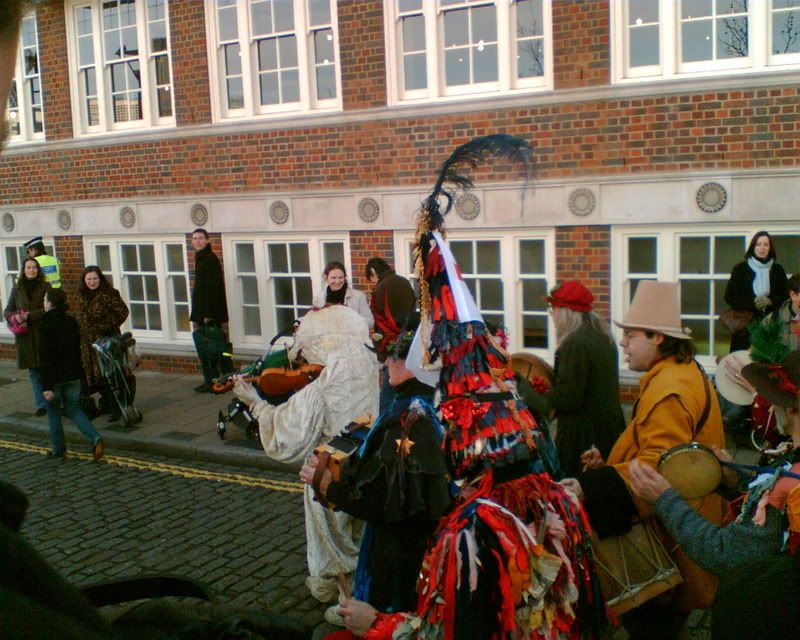 Next, the parade came back again, led by a polar bear playing the fiddle.



My luck changed: the Mummer's Play was staged right next to me on the riverboat landing!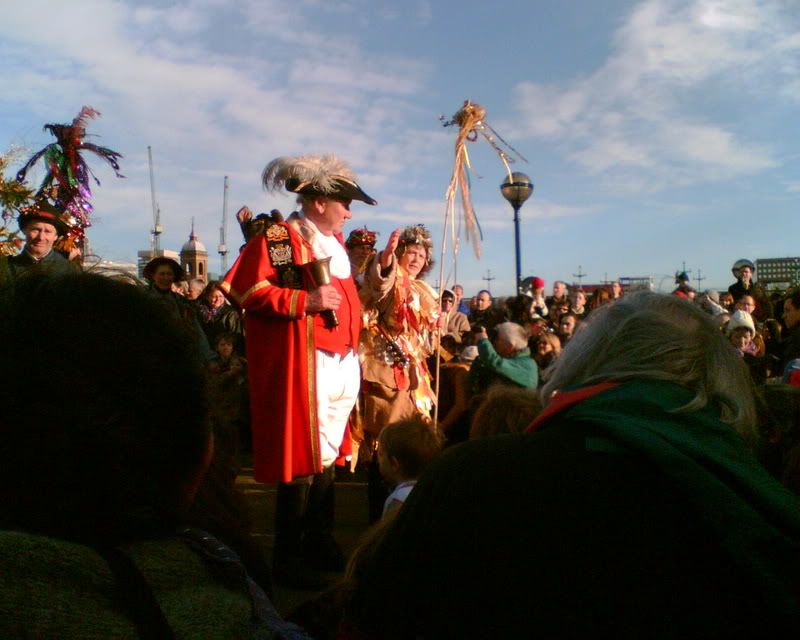 Well, maybe a couple of feet away.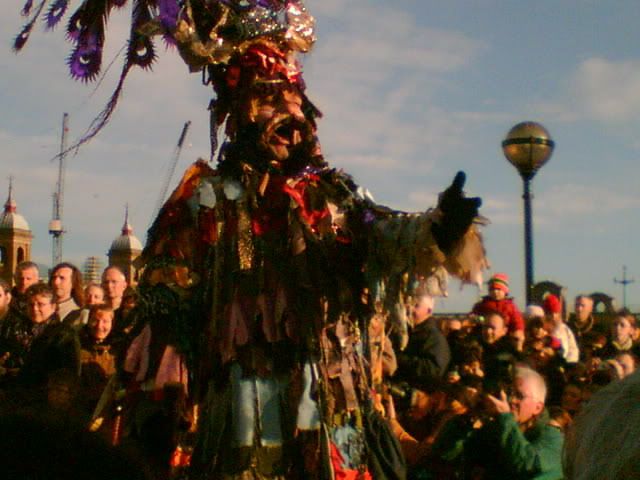 See this evil braggart? He challenged St. George to a fight...and killed him dead!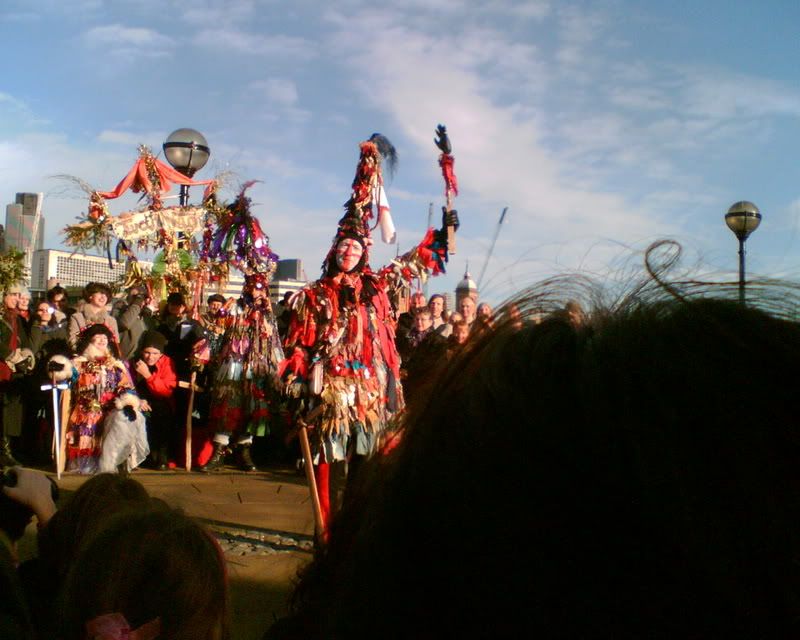 Brave St. George!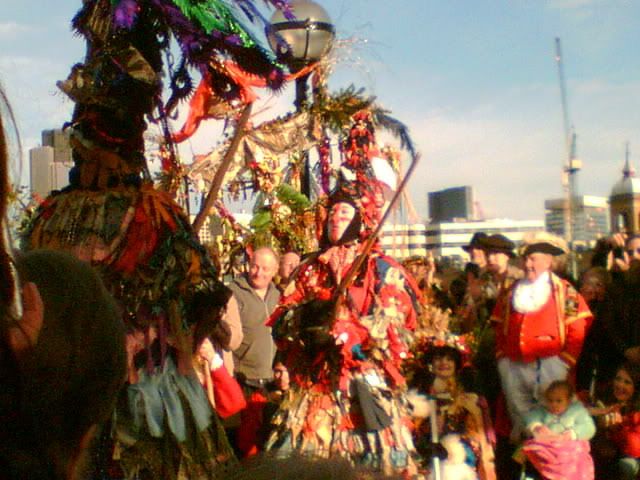 Valiantly fighting the man with the sausage hanging from his nose. Of course he was stabbed in the back, and killed...dead!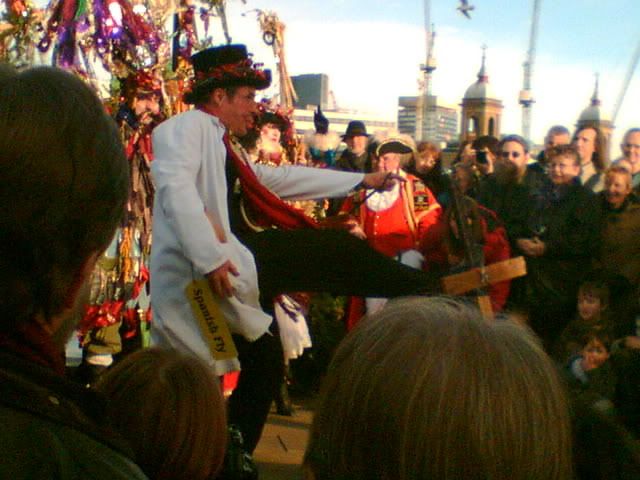 Is there a doctor in the house?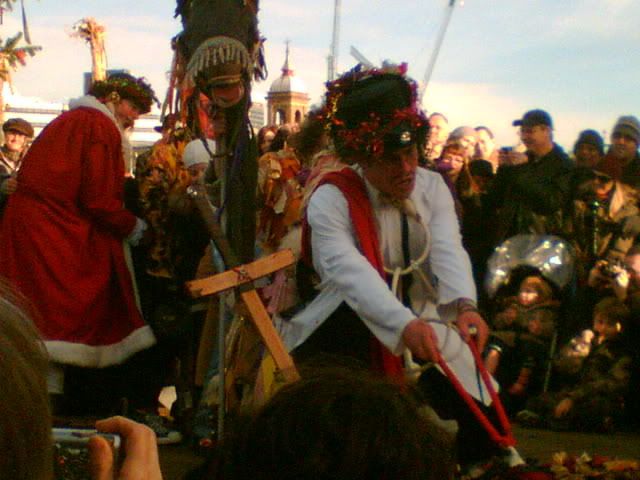 A difficult operation followed, and St. George came to life again. Hurrah!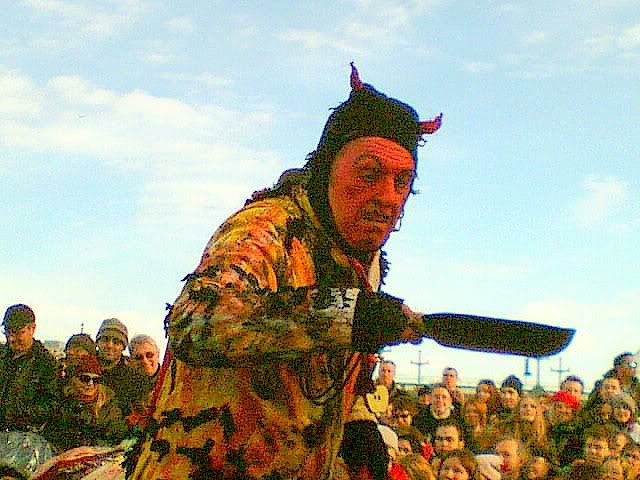 The good doctor required a fee. The mummers must be paid, and the devil went out to collect.


Then cakes were thrown into the audience (yum), and whoever found a bean or a pea in theirs was crowned King or Queen for the day (the King was a little girl). Together with the mummers, they led us in procession through Southwark to the George Inn, where the Holly Man wassailed the pub,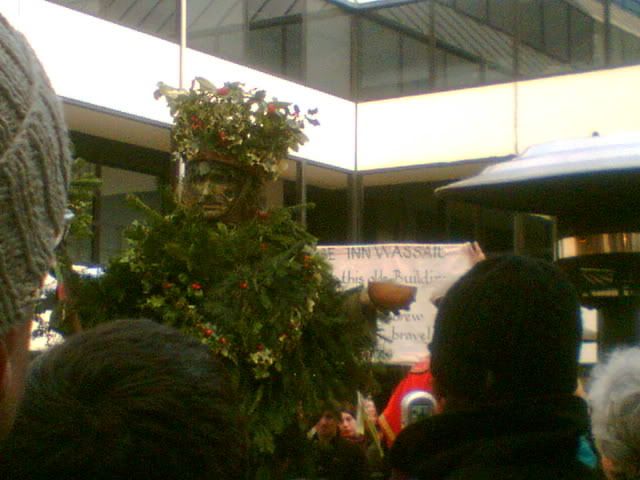 another collection was held, and dancing and the drinking of alcoholic beverages was encouraged. Jules and I made our escape at that time, and hied ourselves off to another, quieter pub in Leicester Square for a farewell drink...then she went home to Hampshire, and I to Amsterdam.

Just before I went into the departure lounge, I was stopped and asked a few questions by a kind old lady 'on behalf of the government'. Where did I come from, where had I been, how long had I stayed, how much had I spent, and what had made me come over in the first place? She was most interested to hear I'd come over especially to see Lee Mead, and we had quite a nice chat about him. ;-)